These Spanish salt cod fritters, called buñuelos de bacalao, are light, crunchy, and just the right amount of salty. They're the perfect starter or cocktail party bite.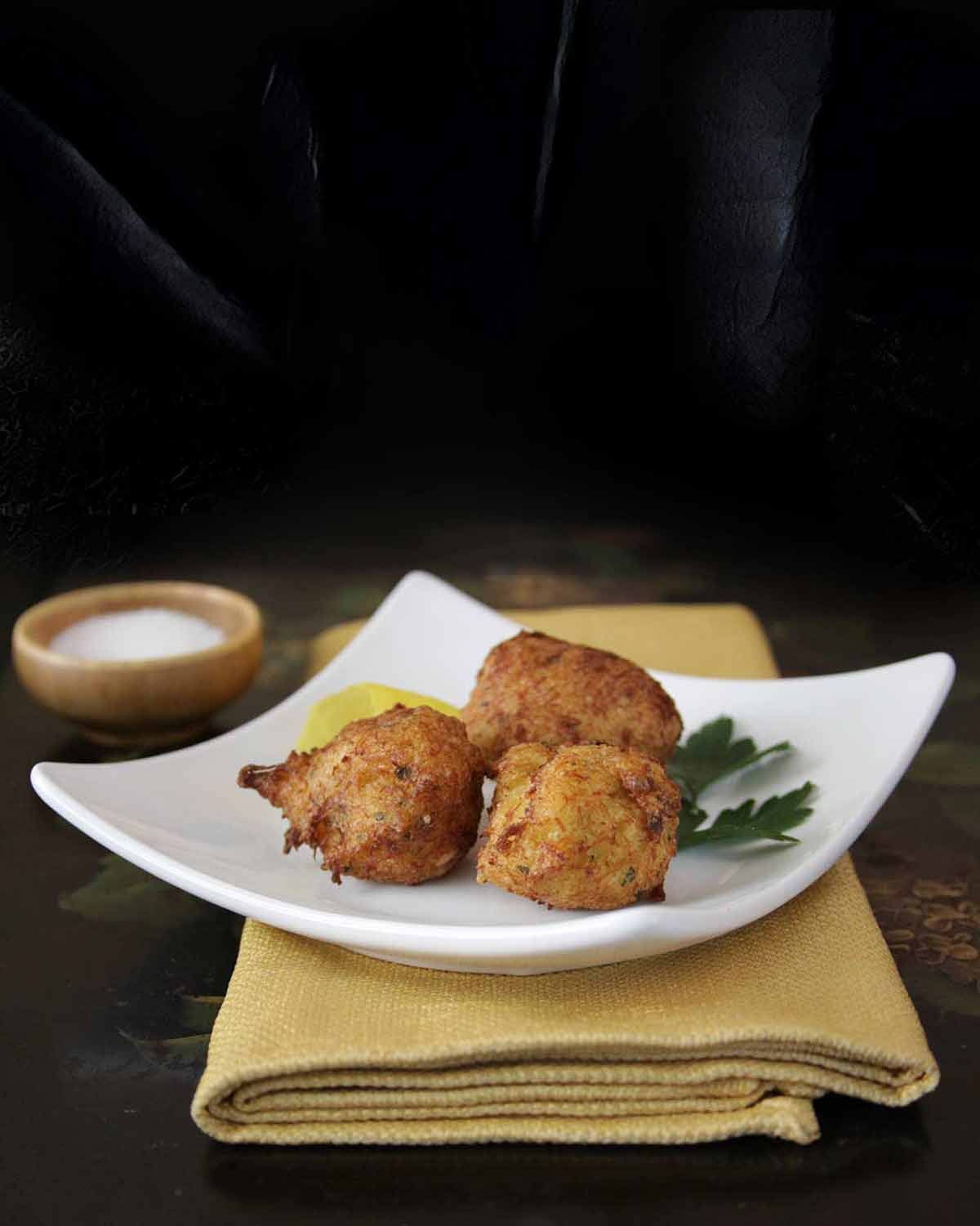 As you know, I'm a thoroughbred Portuguese, both sides of the family are from the Azores for as way back as anyone can remember.
And one of the things I adore are bolinhos de bacalhau, or salt cod fritters. It would be considered cultural treason if I didn't love those little fried nuggets of salt cod and potato goldenness. What's not to love? We Portuguese have been marrying the two ingredients for centuries: bacalhau à Gomes de Sá (casserole of cod, sliced potatoes, onions, hard-boiled eggs, and olives), bacalhau à Brás (scrambled eggs encasing shoestring potatoes and flakes of cod), bacalhau cozido com todos (basically, boiled cod, potatoes, and vegetables), and—well, you get the idea.
So when The One and I recently went to a sweet little restaurant in Great Barrington, MA, and I took a look at the menu, for a moment everything around me went pleasantly fuzzy. Kind of like looking at the world through the wrong end of a smudgy telescope. There, at the top of the appetizer list, was simply, innocently the phrase "salt cod fritter" with harrisa aïoli. So what if harrisa was a North African condiment? The real balls of the dish (pun intended) were the fritters. It was my national duty, being a citizen of Portugal, to order them.
When the waitress, a jejune little thing who was utterly clueless as to the fritters' provenance, put down the plate, I knew something was off-kilter. These were clearly different than the ones I grew up eating. The tidy, carefully shaped golf balls and quenelles of my formative years were replaced here with irregularly shaped, asteroid-like fritters with spiky ends and, on some, little beards of shredded cod, fried crisp. I'm sure if I looked close enough I could probably see the face of Christ, or, at the very least, Mrs. Sullivan, my unkempt high-school librarian.
(Okay, so the photo above shows well-coiffed bolinhos. Old habits die hard. I shaped these with a spoon. So sue me.)
I popped one of the salt cod fritters in my mouth, and those fuzzy ends shattered. They were nothing like the soft bites I've snacked on for decades. Besides being frittery, they were light—so light you couldn't eat just one. Or seven. Confession: The One got less than his fair share, as I took advantage of his need to wash his hands before dining to get a head start. But what intrigued me most was the potato didn't act like Spackle, filling in gaps and holding together these boca bites. Instead, the potato balanced the dish. These were, in short, some of the best fritters I'd ever had.
After massaging the recipe out of the chef, Michael Pancheri, I instantly knew why these golden nuggets of deep-fried love were different. They weren't Portuguese at all. They were, of all things, Spanish. Ack! The famous buñuelos de bacalao I'd heard so much about.
Besides potato, this fritter called for a batter made from flour, water, and oil. A small distinction, I know, but it's a colossal difference to a Portuguese. As I tried not to like them (I really, really did, but it was an utterly impossible task), I could feel a whole nation turning its collective shawl-covered back on me. Nothing comes between the Portuguese and their salt cod fritters. Especially anything espanhol. (The Portuguese have had an uneasy détente with Spain after centuries of Spanish one-upsmanship and better PR.) But I truly, madly, deeply loved these fritters. What's a Portagee boy to do? What else? Master them.
This past Saturday in CT, as I was stealing yet another treasonous bite of my perfected Spanish booty before serving it to The One and Brazilian cookbook author Leticia Moreinos Schwartz, a friend e-mailed me a link to a post about Portuguese salt cod fritters penned by the talented food writer Francis Lam. Then I saw his Tweet: "COD FRITTERS good enough to make even the Portuguese happy."
Oh, poor Francis. Poor, misguided Francis. There has been a four-decade-long kitchen war in the Leite clan over a fritter that can make just us happy, let alone an entire nation of citizens certain each of their mothers makes the world's best bolinhos. Such sweeping generalities can get a man in trouble, my dear Francis. And, I don't know about you, but I have feeling there's a fritter a throwdown in our future. You, me, salt cod, and lots and lots of oil.
Spanish Salt Cod Fritters FAQs
What's the difference between Spanish buñuelos de bacalao and Portuguese salt cod fritters?
The differences are small, but if you ask a Portuguese, they're enormous. Portuguese salt cod fritters are made with salt cod, potatoes, onion, garlic, eggs, and parsley. They shape beautifully into balls or lovely quenelles (ovals). Spanish bacalao fritters are made from the same ingredients but also contain flour and frequently baking soda for lightness. Oftentimes saffron or turmeric are added for flavor and color. They also have an irregular, crunch shape.
How long with salt cod last in its package?
The short answer is it will last a very long time–months if properly stored. For a longer, more detailed answer, check out this Q&A: Crazy for Salt Cod.
How long should I soak salted cod?
First, rinse the salt cod well under running water to remove any surface salt. Then place the piece or pieces of cod in a large bowl or other, more oblong container and add enough cold water to cover by at least a couple of inches. Stretch some plastic wrap over the bowl so it's tightly covered and refrigerate, changing the water several times, until the fish is sufficiently desalted for you, anywhere from 12 to 48 hours, depending on the type and size of the fillet.
Take a nibble now and again. If the cod seems too salty, change the water again and let it sit for a few more hours. Bear in mind: You can always add more salt to the recipe later, but you can't take any more salt away once the cod has been incorporated into your recipe.

Spanish Cod Fritters ~ Buñuelos de Bacalao
These Spanish buñuelos de bacalao are light, crunchy, and just the right amount of salty. They're the perfect starter or cocktail party bite. I did make a killer harissa aïoli and also a smoked paprika aïoli to serve alongside these bacalao fritters, but they don't need no stinking dipping sauce. These beauties are fine just the way they are.
David Leite
Prepare the filling
Transfer the cod to a medium saucepan, add the onion and bay leaf, cover with fresh water by 2 inches, and bring to a gentle simmer over medium-low heat. Cook the salt cod until it flakes easily when poked with a fork, 10 to 12 minutes. Using a slotted spoon, transfer the cod to a plate, leaving the onion and bay leaf in the pan, and set aside until the fish is cool enough to handle.

Bring the water the salt cod was simmered in to a boil, drop in the potato, and cook until tender, about 10 minutes. Drain in a colander. Toss the bay leaf, keep the onion.

Dump the potato and onion into a bowl and mash them well. If the onion refuses to submit, really have at it, cutting it with a knife, if needed.

Remove any skin, bones, and miscellaneous bits and bobs from the cooled cod, then shred it. My grandmother vovó Costa used to dump the cod on one half of a tea towel, fold over the other half, and massage it, rubbing the towel back and forth with the heel of her hand until it left nothing but little clouds of finely shredded fish. The food processor does the same thing in 10 seconds. Sorry, vovó. Stir the cod shreds, garlic, and parsley into the potato mixture. Season with salt and pepper to taste. It's not a bad idea to over-season a bit here, as the batter will tame the flavor some. Set aside.
Make the batter
Rinse the saucepan you've been using (a real one-pot meal), pour in the water and oil, and bring to a boil over medium heat. Shake in the flour slowly and stir with a wooden spoon to make a batter. It'll be lumpy, but press on. A few more minutes and it'll all work itself out.

Remove the pan from the heat and continue beating the batter for 2 to 3 minutes to cool it. Add the eggs one at a time, incorporating completely after each addition.

Add the cod mixture to the pan and stir to combine. It should be the consistency of a nice thick-enough-to-stand-your-spoon-up-in-it oatmeal. Let the batter cool to room temperature. This is the best part: If you wish, you can keep it for several hours and fry off the fritters whenever guests arrive, or when you're in a white-hot state of hunger.
Fry the fritters
Heat 3 inches of the oil in a high-sided saucepan over medium-high heat until it reaches 350°F (177°C). Spoon out a rounded tablespoon or so of the batter, scrape it into the oil using another spoon—remember, irregular is better—and fry until golden brown and cooked through, 2 to 3 minutes. Drain on a brown paper bag (vovó always said paper towels make fried foods soft) and serve hot, hot, hot. Don't give these puppies time to cool down and lose their crunch.
Serving: 1fritterCalories: 67kcal (3%)Carbohydrates: 3g (1%)Protein: 8g (16%)Fat: 2g (3%)Saturated Fat: 1g (6%)Polyunsaturated Fat: 1gMonounsaturated Fat: 1gTrans Fat: 1gCholesterol: 33mg (11%)Sodium: 837mg (36%)Potassium: 216mg (6%)Fiber: 1g (4%)Sugar: 1g (1%)Vitamin A: 68IU (1%)Vitamin C: 3mg (4%)Calcium: 24mg (2%)Iron: 1mg (6%)
Originally published January 11, 2010
© 2010 David Leite. Photo © David Leite. All rights reserved. All materials used with permission.
If you make this recipe, snap a photo and hashtag it #LeitesCulinaria. We'd love to see your creations on Instagram, Facebook, and Twitter.