These glazed blueberry lemon scones are light and flaky and bursting with blueberry and lemon flavors. It's no wonder that our testers are calling them the best they've ever tried.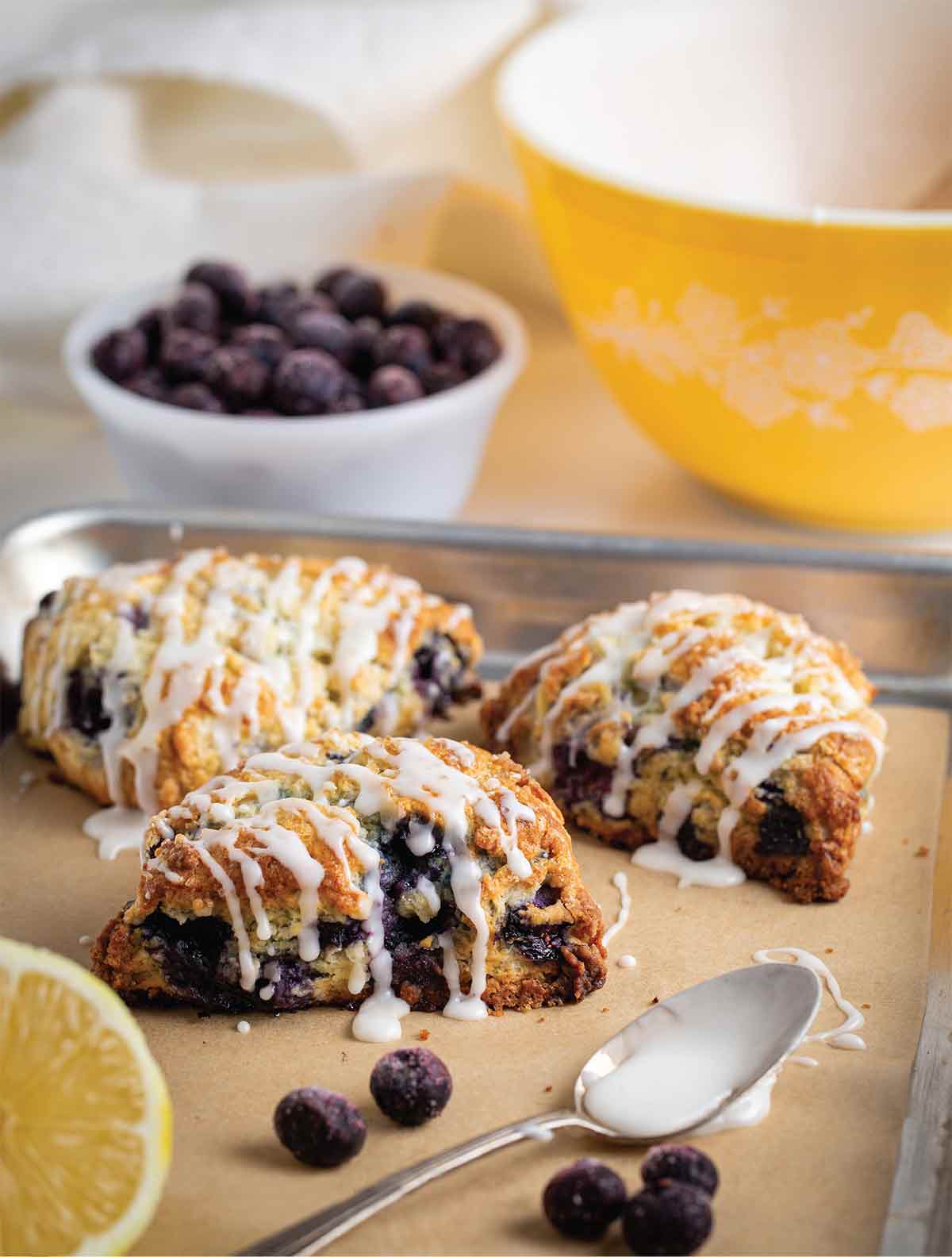 Adapted from Kristin Hoffman | Baker Bettie's Better Baking Book | Mango, 2021
These blueberry lemon scones are American bakery-style scones that are slightly fluffier, sweeter, and closer to a pastry than many scones found outside the US. These are also often topped with a confectioners' sugar glaze. Additionally, scones can be made plain and eaten with whatever fillings you like or used as the base of strawberry shortcake.–Kristin Hoffman
Blueberry Lemon Scones FAQs
How should I serve my baked scones?
Once they're baked and ready to be served, simply break your scones apart using your fingers and eat as you would any other pastry. As the author suggests, you may use your scones as a base for strawberry shortcake (honestly, we can't get that one out of our heads and need to make scones right now), or you may choose to slice them open and add butter, Meyer lemon curd, or blueberry jam.
Can I use milk instead of heavy cream for scones?
While heavy cream is called for in this recipe, if you're in a bind, you can substitute milk and butter for cream and get virtually the same final results. Simply use 1/4 cup of melted butter and 3/4 cup of milk for each cup of heavy cream required.
What difference does the cream wash make on the finished scones?
You may be more familiar with an egg wash (which you can use here instead if you prefer). The egg wash that we typically use on pies and pastries creates a lovely glistening shine on baked goods, but the protein and sugars in the heavy cream will add a touch of color to otherwise pale scones. The fat in the cream will also lend a bit of shine to the tops.
Why does butter need to be very cold for making scones?
Using very cold (or even frozen) butter allows the dough to stay cold right up until it goes into the oven. At that point, the butter melts, creating light, tender scones that don't spread.
Blueberry Lemon Scones
These American-style lemon blueberry scones are topped with a sweet lemon glaze. They're just sweet enough to enjoy any time of the day.
Kristin Hoffman
Make the scones
Position an oven rack in the center position. Preheat the oven to 425°F (220°C). Make sure you give the oven ample time to preheat, as the scones will spread too much if it isn't hot enough.

Line a rimmed baking sheet with parchment paper or a silicone baking mat.

In a large bowl whisk together the flour, sugar, baking powder, and salt.

Add the pieces of cold butter to the mixing bowl and cut it into the flour mixture. To do this, press down on the fat with the wires of a pastry blender or the tines of a fork as you move it around the bowl. Continue cutting the fat into the flour until most of the pieces of fat are about the size of peas, with some pieces being about the size of a walnut half.

Toss the blueberries throughout the flour and butter mixture.

In a separate bowl, lightly whisk together the egg, heavy cream, lemon zest, and lemon juice.

Pour the wet ingredients into the dry ingredients and mix with a silicone spatula just until the liquid is absorbed. This should only take a few turns. The dough will look incohesive, but it will come together on the counter in the next step.

Turn the dough out onto a lightly floured countertop and flour the top of the dough. The dough is typically very crumbly at this point; this is normal. Use a bit of pressure to press the dough together into one mass.

Working the dough on top of a sheet of wax paper makes it easier to fold the dough, using the paper to help lift it.

Press the dough out to about a 1-inch (2.5-cm) thick rectangle.

Using a bench knife (or a metal spatula), fold the dough in half and then turn it 90 degrees. Pat out and fold again for a total of 6 times. The dough will likely crumble during the first few turns. Be very gentle and keep patting it back together. This process is creating layers which will create flaky scones. If you use frozen berries, it can make this dough moister and trickier to work with. Dust more flour on top of the dough as needed to make it manageable.

Pat the dough out to about a 7-inch (18-cm) circle (about 1.5 inches or 4 cm thick). Cut into 8 triangle-shaped pieces. I like to use a bench knife for this, but a sharp knife also works. Transfer the scones to the prepared baking sheet. Brush lightly with cream and sprinkle liberally with coarse sugar, if desired.

As an optional step, place the sheet pan in the freezer for 10 minutes before baking. This will ensure that your scones will not spread too much and will allow your oven to fully preheat.

Bake until golden brown and firm when gently pressed, 14 to 18 minutes.

Transfer to a cooling rack and allow to cool for at least 10 minutes before adding the glaze.
Make the lemon glaze
While the scones are cooling, in a small bowl, combine the sugar, zest, and salt. Add the lemon juice bit by bit, whisking until you have a thick glaze, about the consistency of honey. It should flow slowly off the whisk in a steady stream. If the glaze gets too thin, you can add a bit more sugar to thicken it back up. Drizzle cooled scones with glaze.

Store leftovers, completely cooled, at room temperature, wrapped in foil or plastic wrap, for up to 2 days. Alternatively, you can freeze the scones raw and bake them straight from frozen at 425°F (220°C) for 18 to 22 minutes, until baked through.
Serving: 1sconeCalories: 395kcal (20%)Carbohydrates: 56g (19%)Protein: 5g (10%)Fat: 18g (28%)Saturated Fat: 11g (69%)Polyunsaturated Fat: 1gMonounsaturated Fat: 5gTrans Fat: 1gCholesterol: 70mg (23%)Sodium: 167mg (7%)Potassium: 234mg (7%)Fiber: 1g (4%)Sugar: 30g (33%)Vitamin A: 616IU (12%)Vitamin C: 6mg (7%)Calcium: 90mg (9%)Iron: 2mg (11%)
Originally published June 13, 2022
Recipe © 2021 Kristin Hoffman. Photo © 2021 Kristin Hoffman. All rights reserved. All materials used with permission.
If you make this recipe, snap a photo and hashtag it #LeitesCulinaria. We'd love to see your creations on Instagram, Facebook, and Twitter.