Butifarra fresca is a classic fresh sausage from Spain that is made with a blend of pork meats and seasoned simply with salt and pepper. With this recipe, you have the option to change the spices to suit your tastes, or enjoy it just as they do in Catalonia.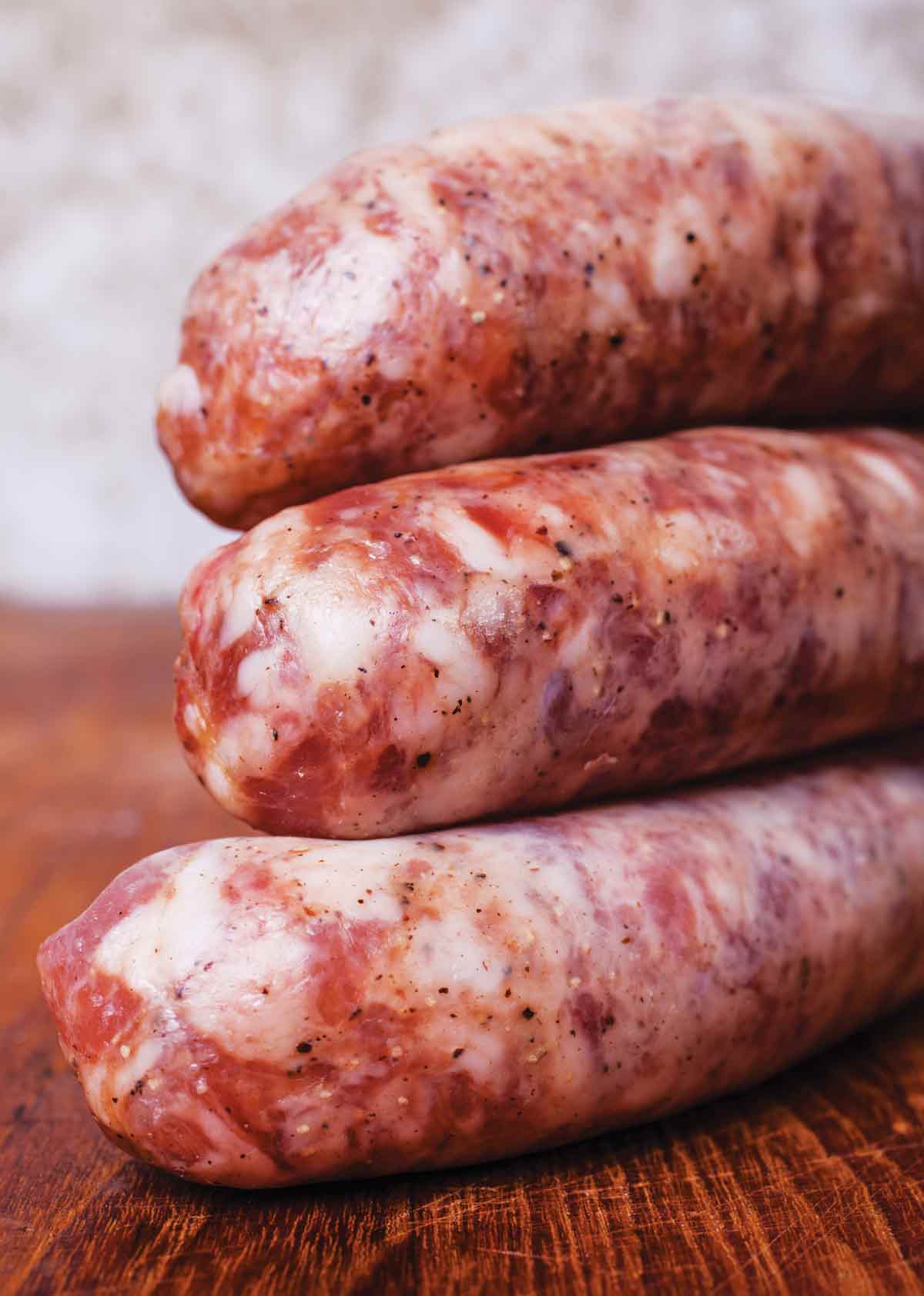 Adapted from Jeffrey Weiss | Charcuteria | Agate Surrey, 2021
A basic white sausage that you will find most everywhere in and around Catalonia, this embutido has relatives all over the world, from the sweet and hot Italian sausages we have come to know in America, to the famous Toulouse sausages of France. Why?
Butifarra—or botifarra, in Catalan—is very closely related to the original sausage recipe mentioned in Apicius, the Roman culinary journal written around AD 900. In places like Barcelona, botifarra is a religion. There's an annual fair in the butifarra's honor every February at the famous Barcelona mercado La Boquería (the fair is called the butifarrada), and a ton of restaurants and shops in the market area serve the sausage in raw and cooked forms. (Check out La Botifarreria, near the Santa Caterina market. You'll find a bigger sausage party there than at a Vegas strip club.) Each shop has its own proprietary mix of the sausage's fat and lean content, different ratios of cuts of pork, and grind sizes.
Just know that Catalan purists thumb their noses at seasoning butifarra with anything other than salt and pepper. Anything else, in their opinion, interferes with your ability to taste the quality of the pork.
That said, we live in a global society, and modern Catalan chefs are creative people. As a result, these days you can find every flavor of the butifarra rainbow in Barcelona, from truffle to foie to pizza to even chocolate.
This recipe keeps it simple: salt and pepper. If you choose to buck tradition, consider some of the optional seasoning options in the recipe. They're mostly Medici-based spices that work well alone or combined.–Jeffrey Weiss
Butifarra Fresca FAQs
I don't have a meat grinder. Can I still make this recipe?
You can. You basically have three options here. 1. Get a very sharp knife and get to chopping. This is the most time-consuming, labor-intensive process, and it's a LOT of work to get it right. 2. If you have a solid, dependable, quality food processor, that will work. Cut your meat into cubes and work in small portions, and be certain to thoroughly combine all of your cuts (collar, belly, jowl) together. 3. Make friends with your local butcher and ask them to grind the meat for you. If you have a local butcher shop, you can likely special order the cuts pre-ground.
How is butifarra fresca served?
This special sausage is served like any other – pan-fried, grilled, used in soups, stews, or chilis, and although this is a very non-traditional approach, you can smoke it as well.
How long will my sausage last?
Making your own sausage is a lot of work, be sure to store it carefully so that you're able to enjoy every bit of it. Butifarra fresca will last about a week in the refrigerator, provided that it's wrapped well. In the freezer, we suggest using vacuum-sealed packaging, as that will ensure freshness for about a year.
Butifarra Fresca ~ Fresh Sausage
This recipe keeps it simple: salt and pepper. If you choose to buck tradition, consider some of the optional seasoning options in the recipe. They're mostly Medici-based spices that work well alone or combined.
Jeffrey Weiss
Make the sausage
Place the aguja, panceta, and papada meats and meat grinder parts in the freezer for 30 minutes to par-freeze before attempting to grind.

Combine the meats, salt, and pepper in a large mixing bowl. Toss together and set aside as you set up the grinder.

Fill a large bowl with ice and place a smaller bowl inside the ice-filled bowl. Grind the meat mixture once through a medium-coarse (3/8 inch or 9.5 mm) die into the smaller bowl. (Be careful: The meat mixture is wet, so it may squirt and pop out of the grinder.)
Season the sausage
In a small mixing bowl, combine the sherry, water, and any of the optional spices you choose, making a slurry. Keep the bowl containing the slurry chilled until ready to use.

Place the ground meats in the bowl of a stand mixer fitted with the paddle attachment (or you can just mix in a mixing bowl with a sturdy spoon). Begin mixing on low speed. As the mixer runs, pour the sherry slurry into the bowl in a steady stream.

Continue mixing on medium speed until the sherry slurry has been fully incorporated into the mixture, a white residue forms on the sides of the bowl, and the mixture firms up, 1 to 2 minutes. Place the bowl containing the ground meat mixture in the refrigerator to keep it cold until you are ready to stuff the sausage into casings.
Test the sausage
In a small skillet over medium-high heat, warm 1 tablespoon of the oil. Place a small piece of the meat mixture in the skillet and fry until cooked through, about 2 minutes. Remove from the heat. Taste and adjust the seasonings to your liking.
Prepare the sausages
If stuffing the sausages, stuff the mixture into the casings and tie into 12-inch (30 cm) loops or 6-inch (15 cm) links. Using a sterile pin or sausage pricker, prick each sausage several times. Place in the refrigerator to ferment overnight. Alternatively, you can ferment before stuffing your sausages.If not stuffing the sausages, form the mixture into 8 ounce (227 g) patties. Wrap in plastic wrap or caul fat, if using. Place in the refrigerator to ferment overnight.
Serving: 1sausageCalories: 384kcal (19%)Carbohydrates: 1gProtein: 21g (42%)Fat: 32g (49%)Saturated Fat: 11g (69%)Polyunsaturated Fat: 3gMonounsaturated Fat: 16gCholesterol: 90mg (30%)Sodium: 987mg (43%)Potassium: 379mg (11%)Fiber: 1g (4%)Sugar: 1g (1%)Vitamin A: 15IUVitamin C: 1mg (1%)Calcium: 24mg (2%)Iron: 1mg (6%)
Originally published May 2, 2022
Recipe © 2021 Jeffrey Weiss. Photo © 2021
Nathan Rawlinson
. All rights reserved. All materials used with permission.
If you make this recipe, snap a photo and hashtag it #LeitesCulinaria. We'd love to see your creations on Instagram, Facebook, and Twitter.